Acne is seriously the worst. I used to have no problems AT ALL with acne...that is, until I got married. I'm not sure what exactly happened. It could be a change in hormones. It could be the birth control. Or it could just be that I am a late bloomer. Anyway you look at it, it STILL isn't fun.
So I can tell you FIRST HAND how doTERRA has helped me. Essential oils have been a LIFESAVER for my acne. Want to know why? I'll tell you:
A lot of essential oils are ANTI-BACTERIAL. Put Melaleuca or Lavender on your face and you'll feel a good, slight sting, especially in troubled areas. This is because it is WORKING. Kiss those germs bye-bye.
Some essential oils are ANTI-INFLAMMATORY. Every popped a bunch of zits all in a row? Did you look like a pepperoni pizza? I know I do. Oils will help get into your pores and reduce the swelling and redness.
Oils like Frankinsence and Lavender are great for your skin. They reduce blemishes and wrinkles! *(Stay tuned for my post on doTERRA Skin Care!)

Using essential oils as a remedy for acne is SAFE. Because doTERRA oils are all natural, you don't need to worry about chemicals or nasty combinations being lathered on your skin. Everything is pure and potent, so you know it will be safe and it will work.
Before (no makeup)
After (no makeup)
doTERRA has created a blend of essential oils targeted directly at eliminating and preventing acne. I give you...buh-buh-da-da!...CLEAR SKIN!
A perfect combination of rosewood, Melaleuca, eucalyptus, geranium, lemongrass and black cumin oil are TARGETED and helping you out with not only acne, but any type of skin related issue! Rashes, eczema, bug bites, boils, ZITS, you name it! Clear Skin will help.
I LOVE clear skin because you can FEEL it working. PLUS, it comes in a roll on bottle so it is extremely easy to apply. If you have skin problems, make Clear Skin a part of your daily regimen! Some in the morning, and some at night. I promise you'll see a huge difference!
Here is something I have been doing for the last month or so which makes things a TON easier:
Buy some dry, cotton, round face pads or cloths and a ziploc baggie or other container.
Squeeze some doTERRA Facial Toner to moisten the pads.
Add 20+ drops of the oil of your choice! I added Clear Skin, Melaleuca and Frankincense.
Use every morning and every night after washing your face to make your skin wonderful! It makes application SO much easier, and it will leave your face feeling clean and looking clear!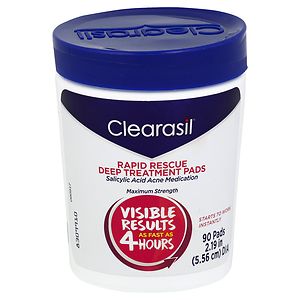 You can also do this with pre-moistened pads like the ones on the right. Just eliminate some of the liquid already in the bottle and add your own oils.
Happy Oiling!
***If you'd like to get your hands on some essential oils, please
check out my store here!***